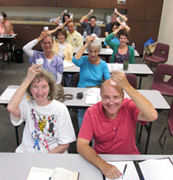 Learn ways to make affordable energy upgrades to your home that will save you money. Most participants can expect to achieve a 30% savings in their utilities by implementing ideas learned in class. All participants receive a bag of helpful energy savings tools.
Thanks to sponsorship support from The Biltmore Company® there is NO CHARGE for this class or for the energy saving tools.
Pre-registration is required for all classes. Register online or call 828-255-5166 today.