Celeste Collins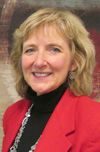 Executive Director
Celeste began her employment with OnTrack WNC in November 1993 as a part-time counselor / educator. Over the years Celeste has been a credit counselor, housing counselor, educator, grant writer, marketing director, and fundraiser.
Prior to joining OnTrack WNC she was Vice President, Regional Sales & Marketing Manager for First Union National Bank's 88-branches in western NC and has experience as a branch manager in consumer /mortgage lending. A passion for helping people manage their money and credit better inspired Celeste to leave her job in banking to work with OnTrack WNC.
Celeste graduated from UNC- Chapel Hill with a degree in Business Administration and concentration in Accounting. Celeste is married and has two children. Her community involvement includes: First Baptist Church, The Rotary Club of Asheville, Homelessness Initiative Advisory Committee, Asheville High/SILSA Business Alliance, Wildacres Leadership Initiative – Friday Fellows, WNC Nonprofit Pathways Advisory Committee, and Buncombe County's Aging Plan Steering Committee. Celeste received the Asheville Chamber of Commerce Athena Leadership Award in 2010, and was one of the YWCA's 2011 TWIN honorees in the Empowerment category.
Celeste enjoys spending time with her family, playing racquetball, reading, writing poetry, and being an active member of her church community.