Miguel Hernandez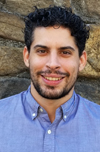 Certified Financial and Housing Counselor & Educator
Miguel knows what it's like to be clueless about credit and financial literacy. In his early 20s he tanked his credit by taking out high interest loans he could not pay and overspending because he didn't know how to budget. In 2016, while in college, he took the OnTrack WNC Manage Your Money course and started working on budgeting and rebuilding his credit. 
Miguel graduated in 2019 with a B.A. in Social Work from Warren Wilson College and immediately started working at OnTrack WNC to help educate people so they don't fall into the same traps that he did.
Miguel is originally from San Juan, Puerto Rico. He is also a veteran, having served in the U.S. Coast Guard for 8 years, including being deployed at the Gulf of Mexico during the Deepwater Horizon oil spill in 2010. He enjoys reading, fitness, gardening, and spending time with his wife and daughter.