Sarah Brown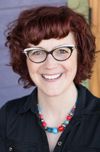 Deputy Director
Sarah Brown joined OnTrack WNC in 2007 as the Director of Development & Marketing. Over the years, Sarah has also been the Director of Client Services, Education, and Collaborative Programs. In 2014, OnTrack WNC announced an organization restructuring aimed to better meet the emerging needs of consumers.
With the agency's new strategic focus, Sarah assumed management of all program and client services staff and became the leader of the Financial Capabilities Initiative. Its goal is to affect behavior change in clients through financial education, counseling, and coaching.
Sarah received her Master's Degree in Integrated Marketing Communication from Emerson College, her BA in English from Le Moyne College, and is a member of the Friday Fellowship - NC Wildacres Leadership Initiative. She serves as Chair of Mountain Housing Opportunities Board of Directors. Prior to working with OnTrack WNC, Sarah was the Marketing Manager at Neighborhood Housing Services.
She enjoys slowly cultivating her yard into a garden, telling (and hearing) funny stories, and daydreaming about retiring in 25 years as a tour guide in Alaska.