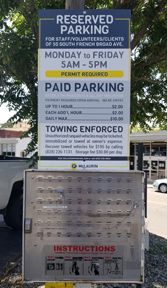 The United Way (where OnTrack WNC Asheville offices are located) now has a new parking system. What does this mean for clients, volunteers, or guests who come to the Asheville office?
Visitor spaces are available Monday through Friday from 8:00am - 5:00pm. These are located in the back lot when you enter from Hilliard or in the front of the building. If there are visitor spots available, please park in these spaces as your first choice.
No visitor spaces? You can park anywhere with a dash pass (weekdays or weekends)! We will be mailing dash passes for all upcoming classes and appointments. When you arrive, please put the dash pass on your dashboard. If you forget your dash pass or didn't get one, please let us know at the lobby window (or let your counselor or educator know), and we will provide you with one.
And – if for some reason you get a ticket, let us know and we can get it forgiven.
If you have any questions or concerns, please feel free to call our Client Service Team at (828) 255-5166 and we will be glad to help! Thank you for your understanding and patience as this new system is implemented.