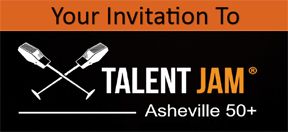 Terrific news!  NC Works Career Center is hosting a Talent Jam for Experienced Workers age 50+ on Wed, February 27, 2019 from 2:00 PM – 4:00 PM at the Mission Health / A-B Tech Conference Center.
This unique hiring event which allows you the opportunity to network informally with employers interested in hiring Experienced Workers. You may also deliver a 1-minute pitch (elevator speech) to the employers in a group setting.
Click here to learn more about Talent Jam or call NC Works Career Center, Asheville at 828-251-6200.