Want an $840 Boost for Your Emergency Fund?
Join the SECURE Program!
Complete classes and a one-on-one counseling session to take your savings skills to the next level and to create a personalized budget which includes monthly expenses, paying down debt and emergency savings!
SECURE matches every $1 you save in a SECURE savings account with $4 more! When you save $35 per month for 6 months ($210 total), you get an $840 match. That's $1,050 in your emergency fund by the end of the program!
Participants must fall within the income guidelines below and must not have graduated any other SECURE program.
---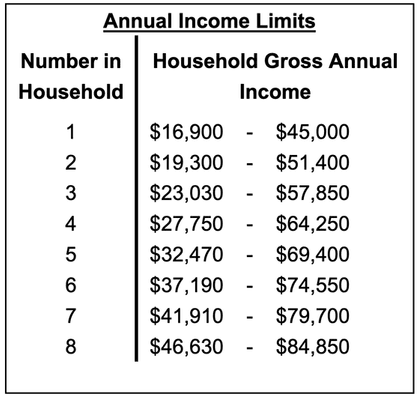 Open to residents of WNC.
Interested?
The SECURE program is currently fully enrolled, and we are unable to accept new participants at this time. We hope to offer the program again sometime this year. If you'd like to be among the first to know when we relaunch, please email the SECURE Coordinator, Odessa Wells-Layne (odessaw@ontrackwnc.org) and ask to be added to our wait list. Please include your name and phone number.
---
Here's what one SECURE graduate had to say: "What helped me most about the SECURE Program was its structure. I knew that I had to deposit a specific amount of money by a specific time into a specific account. This detailed structure helped me to stay on track (no pun intended!) every month."
---
---
FOR EMPLOYERS & HUMAN RESOURCES STAFF:
Our SECURE Emergency Savings program is a completely customizable program. If you are interested in learning more about how we can customize this to fit the needs of your organization, visit our Employee Financial Wellness page.
---
The SECURE matched savings program is made possible by a generous grant from the Community Foundation of Western North Carolina.