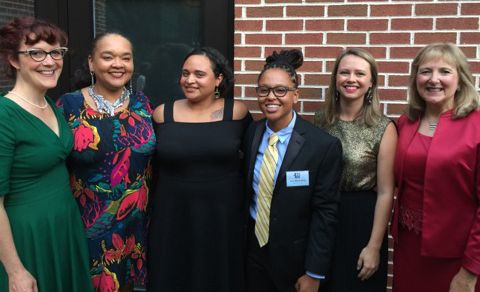 Amazing OnTrack WNC Certified Counselor & Educator, Anna Marie Smith and 39 other young Asheville leaders were recognized on September 28th at the Biltmore Beacon 7th Annual 40 Under Forty Gala. Honorees are under 40 years old, live or work in Buncombe County, are involved in their communities and show the potential to be a leader in the business community for years to come.
The following is an excerpt from Anna's nomination from her supervisor, Sarah Brown:
Anna is a highly-regarded community member and developing leader who people listen to with respect. In her personal and professional life, Anna acts as a bridge between people of different races and income levels, working to find common ground so that we can all grow and learn together.
Anna works at OnTrack WNC Financial Education & Counseling as a dynamic and effective financial educator, counselor and coach. In two years, she has educated over 1,700 people and provided financial counseling to 440 clients, helping them identify financial struggles and facilitating their discovery of how to change their money lives. Helping people who are often ashamed and disempowered, Anna is personable, authentically engaging, and is keenly aware of the barriers low-income people face. Because of this, she quickly gains the trust and confidence of the people with whom she works.
As a developing leading in our community, Anna is unabashedly real, unafraid to call out racism and poverty issues, and approaches these discussions with grace and understanding. As Asheville works to truly face racial and economic injustices in our community, I am excited to see Anna's role bringing together different voices to find understanding.