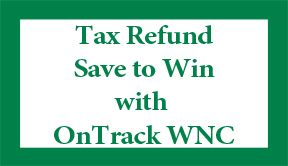 Tax Refund Save To Win was designed to encourage OnTrack WNC VITA tax clients to deposit all or part of their tax refund into a savings accounts and maintain the balance for at least six months. By adding to their savings and/or participating in OnTrack WNC education and counseling, participants earned additional prize drawing entries and improved their financial skills.
GRAND PRIZE $500 winner: Andrea Beeks
Andrea has been having her taxes prepared with OnTrack WNC since 2011. Two years ago she began the Mission Home Help Program to work towards her goal of buying a home. She has taken several OnTrack WNC classes, including Homebuyer Education and meets with Financial & Housing Kathryn Beach to continue to make progress toward her goal of owning a home of her own!
"It means a lot to me to have won the Grand Prize. It's a true blessing to have money to have my savings account for emergencies and I plan to add the prize money to my savings. It a great feeling knowing that I have money saved for emergencies that could come up – car, medical bills, etc. With my goal of becoming homeowner every little bit helps. Through Tax Refund Save To Win, I've learned how important it is to have money put aside for life's unexpected expenses."
Congratulations Andrea!
SECOND PRIZE $100 winner: Amy Chilson
Amy has taken lots of OnTrack WNC education classes and has been a tax client for several years, in fact, in 2015 she won the Tax Refund Save To Win Grand Prize!
"It is always nice to win something, especially if it is unexpected. Winning money is even nicer because it is so hard to come by. Since my divorce I have been struggling financially and living from paycheck to paycheck. Being able to have money in a savings account is a wonderful feeling. It works out well for me to put part of my tax refund in each Spring as a large deposit, and then just add what I can each month for the rest of the year. I am very grateful to have been made aware of this program because it has given me a tool for saving and also introduced me to the Self Help Credit Union. I plan on continuing with the program and increasing my savings."
Congratulations, Amy!