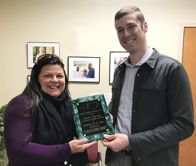 There's a celebrity in our midst! Jonathan Stansell, OnTrack WNC's Program Development & Homebuyer Program Director, received the "Affiliate of the Year Award" from the Mortgage Bankers Association of Western NC.
"Mortgage Bankers Association of WNC recognizes Jonathan Stansell, OnTrack Financial Education & Counseling, as Affiliate of the Year 2017-2018 for achieving the standards of excellence as defined by the board of directors."
But that's not all, MBA also made a contribution to support OnTrack WNC's high-impact Homebuyer Program!