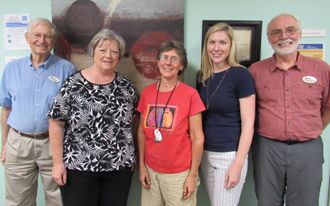 Pete Wrublewski, our Tax Program Coordinator, our client services staff and especially the 21 volunteer tax preparers deserve a standing ovation for the record setting tax season!
This year our VITA site filed 16.70% more tax returns than last year. Total accepted returns: 929 resulting in refunds of an astounding $1,090,198! Total Earned Income Tax Credit (EITC) $344,628 and Child Tax Credit of $87,701.
Thanks to sponsorship support from Dixon Hughes Goodman and NC Association of CPAs; Grant support from People in Need (Community Foundation of WNC), United Way and the NC VITA Coalition.