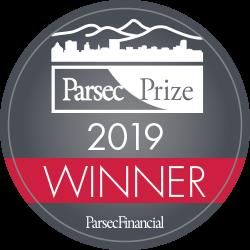 In 2017 we were thrilled to receive the FIRST EVER multi-year Parsec Prize (4 year commitment)! And we are still thrilled as 2019 marks the third year of the prestigious and generous award!
Since 2017 the Parsec Prize has already provided OnTrack WNC with important support for our financial education, counseling, coaching and support which serve over 7,000 people each year. Thank you Parsec Financial for this incredible award!
In 2005, the Parsec Prize by Parsec Financial started in Asheville as a means of giving back to non-profits making an impact in North Carolina. The purpose of the Parsec Prize is to help local non-profits like OnTrack WNC further our missions and improve the lives of our surrounding communities. Learn more here.