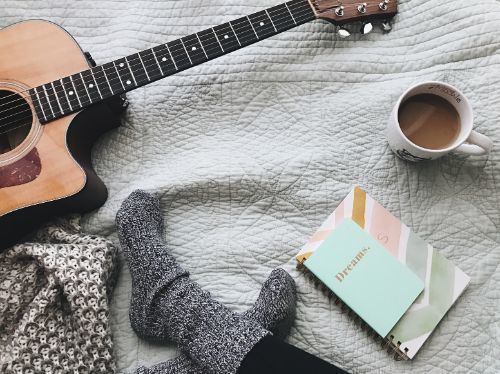 The most wonderful time of the year can also come with stress and not as much cheer. The holidays can also be a reminder of the people we are missing or a stressor for all of the things we need to get done. Remember that even though it is a magical time of year, it may not feel that way to everybody. In order to feel and spread holiday cheer, it starts with you! Practice these tried-and-true self-love tips this holiday season so that you can focus on being the best version of you! 
Use Positive Talk with Yourself
You're kind when it comes to helping others, but what about your internal voice? It's easy to get down on yourself, but proactively realizing how you speak when you're thinking about yourself is important to your own well-being. Listen to your internal dialogue and catch yourself when you feel like you are speaking negatively. Ask yourself how you can reframe that talk to be more positive! 
Let it Go
In the words of Elsa from the hit movie Frozen, some things require the mantra, "Let it go." In order to feel lighter, find what works for you. Sometimes letting go means forgiving and forgetting, while other times it means mentally choosing to move on. Whatever is weighing on you, try to find a way to feel content. This could mean making peace where there is conflict or simply accepting the things we can't change. 
Don't Forget to Indulge
Too often, people end up restricting themselves during the holidays and forgetting to have a little fun! This can lead to increased stress. Treat yourself this holiday season and remember that you can balance out those indulgences (that is, if you choose!). A little indulgence won't throw you completely off track, and it will make you happy. 
Remind Yourself Daily
You've accomplished so much and will continue to accomplish so much more. Start each day by reminding yourself about the great things you've accomplished and what you'd like to accomplish in the future. If it helps, post an inspirational note to yourself that you can look at and repeat each morning. While it may seem silly at first, over time you'll start to truly believe your mantra. Put your note somewhere where you're sure to see it each and every morning so that you start your day on the right foot. 
Pick Up the Phone
If you aren't feeling the love this holiday season, remember that you're never alone. There are tons of other people feeling the same way, or people in your life who are there to lift you up. Pick up the phone and give those people a call. Be open about how you're feeling and genuinely listen to how the other person is feeling. 
While the holidays are about spending time with others and spreading as much cheer as possible, it's hard to spread cheer if you aren't feeling great yourself. Don't forget to practice these self-love tips throughout the holidays and the entire year. In order to do good in the world, you first need to feel good about yourself!