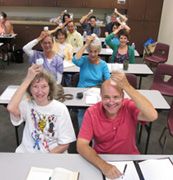 Update: 3/18/20
Due to the Coronavirus (COVID-19), we are temporarily suspending our in-person classes. Additionally, we are not accepting registrations for any of our financial education class offerings at this time. We apologize for this inconvenience and we hope to be able to begin offering these classes to the community as soon as it feels safe to do so.
We will monitor this situation and when it feels appropriate to reopen these classes we will update the website.
---
Learn ways to make affordable energy upgrades to your home that will save you money. Most participants can expect to achieve a 30% savings in their utilities by implementing ideas learned in class. All participants receive a bag of helpful energy savings tools.
Thanks to sponsorship support from The Biltmore Company® there is NO CHARGE for this class or for the energy saving tools.
Pre-registration is required for all classes. Register online or call 828-255-5166 today.