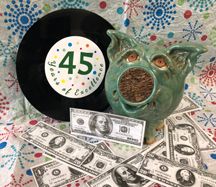 Money, Money, Money, Money… Money!
We are STILL celebrating YOUR GENEROSITY which put us over the top for our $10K Challenge Match.
All total $14,500 to support OnTrack WNC's important, life-changing work! 
A HUGE THANK YOU from our clients, board, staff, and partner agencies!  
BTW:  If you missed the chance to give, please know that your financial support is ALWAYS appreciated.  Click here to make a donation today.