In situations where your home is at risk, the sooner you contact us the better! The sooner you call, the more options you will have to deal with your situation.
Our foreclosure prevention counseling can help clients who:
Are in danger of becoming late on their mortgage payment;
Have concerns about making ends meet and continuing to make their payment in the future;
Have a delinquent mortgage; or
Have a mortgage in default, or in foreclosure.
The first step is to call our office at 255-5166 or 1-800-737-5485 to schedule an in-person or telephone appointment with one of our certified financial counselors. We will mail (or email) an information packet that you will need to complete and bring with you to your appointment.
During the appointment, your certified financial/housing counselor will evaluate your current financial situation, your loan, and the amount in delinquency. After gathering the necessary information, your counselor will work with you and your lender to find realistic options for you that are acceptable to your lender. Possible solutions include: a loan modification, home refinance, or a forbearance agreement. When needed, our counselors will personally contact the mortgage lender to help create an affordable payment plan.
Ready for assistance? Call 828-255-5166 or click here to get started.
---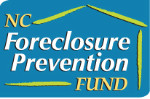 The N.C. Foreclosure Prevention Fund helps North Carolina homeowners struggling to pay their mortgage due to job loss or other temporary financial hardships, such as divorce, illness or death of a co-borrower.
If you qualify, the Fund can pay your mortgage and other related expenses for a limited number of months to help you get caught up on your mortgage and/or while you search for work or go back to school to re-train for a new career. Another assistance type could be available to make monthly mortgage payments more affordable for applicants with an eligible hardship and qualifying permanent fixed income. If approved, the assistance is zero-interest and forgivable.
North Carolina Foreclosure Prevention Funds are limited so homeowners are encouraged to act quickly.
For more information about eligibility, homeowners in Western North Carolina should call OnTrack WNC at 828-255-5166.
---
"OnTrack WNC helped us prepare in advance of the layoff so that we were able to survive it financially. Without their help in the first stages, we do not think we would have avoided foreclosure.
-Andres Guinea & Irene Marsh, Proud Homeowners