Melinda Bullen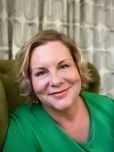 In August 2023, Melinda joined OnTrack WNC as their Executive Director. From her work with the City of Portland designing employee experiences that emphasized learning, leading, and wellbeing to her 15 years in higher education creating access and support services for students, staff, and faculty, she has committed her career to equity, justice, and agency.
Melinda received her Bachelor of Arts in fine art from the University of North Carolina Asheville and did extensive post-graduate work in creative writing, intercultural communication, and completed an Executive Master in Public Administration (EMPA) from Portland State University. She has lived on both coasts of the United States and abroad teaching, training, and writing in Santiago, Chile.
Outside of work she serves on the Steering Committee for Blue Ridge Public Radio's Community Advisory Board and volunteers with Appalachian Sustainable Agriculture Project (ASAP). She is a maker, a lifelong learner, a storyteller, an animal lover, a traveler, a collector, and co-host of the podcast Time to Gather.