The OnTrack WNC Keystone Society. Consistent, central and fundamental to OnTrack WNC's capacity to bear the weight of responding to our community's pressing needs—like the  keystone at the top of an arch allows the arch to bear weight and is vital to its structural integrity.
Our Keystone Society members are now, and will continue to be, a vital part of the positive impact we make in the lives of the people we serve, as we connect them to knowledge, skills and actions which give them hope.
The contributions are "undesignated" and support the general operating expenses of the agency. This is distinctly different from sponsorships that require specific branding or grants that require program outcomes…
The Keystone Society is open to:
Businesses that commit to an annual "undesignated" gift of $10K or more for at least three years. AND
Individuals who commit to an annual "undesignated" gift of $5K or more for at least three years.
Founding Business Members of the OnTrack WNC Keystone Society were recognized at the 2017 Financial Literacy Luncheon with the Credit Where Credit Is Due Award:
2017-2019 Business Members
2017-2019 Individual Members
Dana & Jana Stonestreet
Bill Russell
Gretchen Batra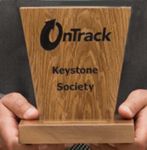 Keystone Society Members receive a unique, custom-made "Keystone Awards" designed and built by The Old Wood Company, a fabulous LOCAL business in the River Arts district.