Amanda Hunsucker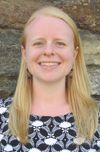 Program Director
Amanda joined OnTrack WNC in July 2015. She is originally from the foothills of North Carolina, and earned her B.A. in Education from Mars Hill University. Her professional experience includes teaching parenting skills, teaching life skills to new immigrants, coaching students and their families through the college admissions process, and coordinating volunteer and internship programs.
Amanda feels fortunate that in her work she is able to be source of support to others as they build skills, knowledge, and capacity to achieve their goals!
Amanda enjoys many different food-related hobbies: gardening, cooking, home canning, and visiting restaurants.