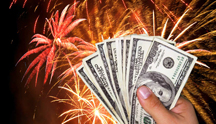 This month when we celebrate the United States' declaration of independence, why not declare your own personal financial independence?

Getting started is as simple as scheduling an OnTrack WNC CLASS! Whatever your goal, we can help YOU develop a plan.
- Build Your Credit
- Pay Down Debt
- Get a Spending Plan
- Buy a Home
- Manage Student Loan Debt
- Avoid Foreclosure
Don't wait to begin your journey toward FINANCIAL FREEDOM! 
Visit us online or call us today 828.255.5166 or 1.800.737.5485.